CLARK STREET BAKERY – AN LA FAVORITE BAKERY
Following the Lodge Bread Company entry from the other day, another bakery I often use is Clark Street Bakery. There are shops in Echo Park, Grand Central Market, Brentwood, as well as a coffee shop near Echo Park. I've been to all three shops, but I like the atmosphere of Echo Park and Brentwood best.
I first learned about Clark Street Bakery about 5 years ago. At the fishmonger I used to use, baguettes and chocolate chip cookies from Clark Street Bakery were displayed next to the cashier. I think that the fishmonger staff made the recommendation, "Well, don't you know? The bread over there is delicious!" After that, the fishmonger closed, but about a year ago, when traffic was at a minimum due to COVID restrictions, I made my first visit to the Echo Park shop.
I was able to order in advance online, so I bought baguettes, several types of bread such as country bread, banana bread, cheddar & chives scones, and chocolate chip cookies. I like the banana bread with ingredients including walnuts and chocolate chips and many others. It has a very full taste, and now I buy it by the loaf. Cheddar & chive scones are also very good.
The second time I bought a loaf of banana bread, focaccia, plain croissants, and ham & cheese croissants. I like the croissants because the outside is crunchy and you can see dozens of layers, and the ham & cheese croissants are also good. However, the focaccia was disappointing. I accidentally ordered raspberry jam, and found that I really liked it. So much so that I recently ordered a large jar of it.
The baguette has a yellowish white color similar to that of a French baguette, rather than the dark brown color of sourdough from Lodge Bread Company. It depends on the food it is paired with, but this is so far my favorite baguette in Los Angeles.
The Seeded Country Bread feels moist and dense inside, but with less seeds on the outside compared to the Lodge Bread Company. I prefer the Lodge Bread Company for this bread.
While the Lodge Bread Company handles a lot of sourdough-based products such as pita bread, hummus and spreads, it seems that Clark Street Bakery has a wide variety of pastries and viennoiserie.
I haven't tried quiche, brownies or pain aux raisins yet, so I'd like to order little by little over time.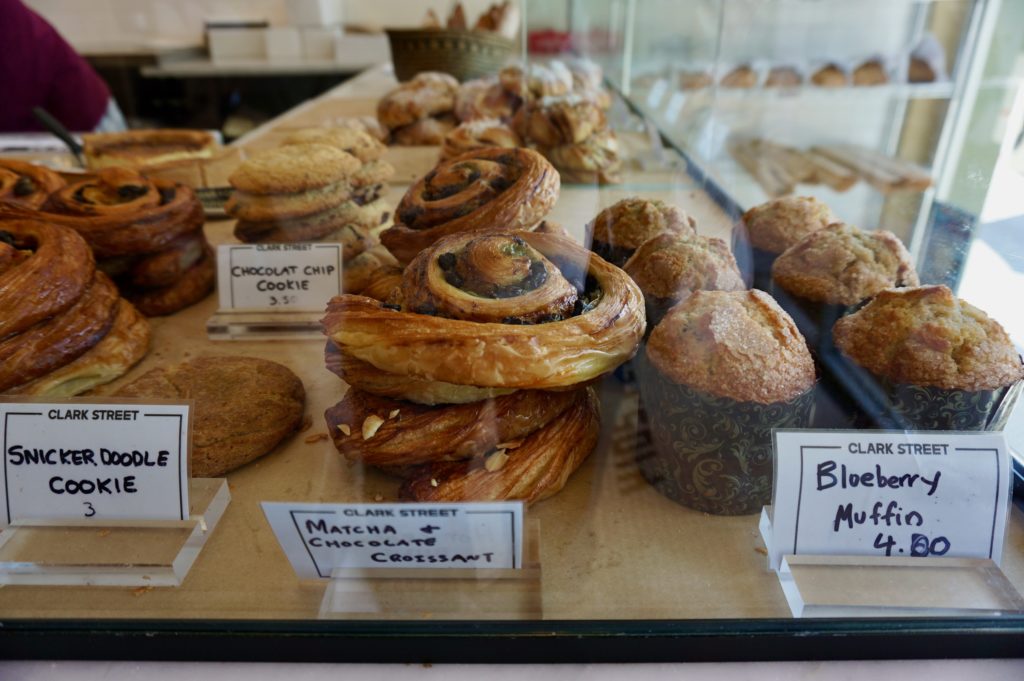 I didn't take a photo, but Clark Street Bakery sells four types of bagels: plain, everything, sesame, and cheddar cheese, each for $2.50. I bought one of each the other day and found that they were not too dense or too heavy, still chewy, and when I baked them just a little to warm them, the outside became a little crispy. The bagels that day didn't have a purely classic bagel look because the hole closed up a bit, but the flavor was good. Some people may reject them and say that it's not a bagel!
And personally, I'm happy that they are also carrying Bordier butter. They didn't carry it a year ago, so I think it started recently. On the day I went to the Brentwood store, there were four types: seaweed, yuzu, espelette pepper, and Madagascar vanilla. The price is 20 to 30% cheaper than the French Le Concept Store.
Brentwood is a larger store, so when COVID settles down, it may be possible to secure a certain number of seats. Currently there are only two tables outside the store and the back of the store sells store goods.
Opposite the cashier, you can find flavored potato chips, pasta, flour, coffee and granola that you've seen in France.
The staff is also very friendly and the bakery has a good impression.