VENTANA BIG SUR ROOM SERVICE
At the Ventana, where I stayed in October 2020, I used room service twice for a midnight snack and lunch. On the day of departure, I checked out at 11:00 am, and in preparation for about 6 hours of driving, I chose a lunch box for lunch from room service as well.
After breakfast, you can easily return to your room, relax while surfing the web, or watch YouTube on the sofa or hammock on the balcony, or meditating (= taking a nap) with your eyes closed.
Only one building can be seen from the edge of the balcony. It is very private because it is surrounded by trees.
A woodpecker was making a hammering sound in a nearby tree. It's been decades since I've seen a woodpecker. This feeling of openness and extraordinary feeling of nature was the best.
We had to each lunch at some point, but the deck was just too enjoyable to leave, so I ordered room service for lunch.
I tried to avoid meat for lunch, so I ordered the mushroom panini but J ordered the Big Sur smash burger. I was told that the food would be delivered in about 40 minutes, but in reality the food arrived in about 20 minutes. We enjoyed Veuve Clicquot "La Grande Dame" that I had brought with us.
A portion half the size would have been sufficient. I found the salad dressing was refreshing and the mushrooms were thick and delicious. I tried J's french fries, but they were cold and not good. Fried food is best served freshly prepared, so it's not very suitable for room service.
In addition to room service, lunch options include poolside, picnic lunches, and hikers lunches that are boxed for you to take with you. Please note that picnics and hikers lunches must be ordered the night before.
I asked the staff to explain the difference between a picnic kit and a hiker's lunch, but I couldn't understand it well. Picnics will be prepared and delivered to picnic areas around the site. One location is on the way from the smaller pool to the Sur House. I think hikers lunch can be picked up at a social house and eaten anywhere. At least I think that's the way it works and I apologize if that's incorrect. The picnic area on the way to the Sur House is shown below.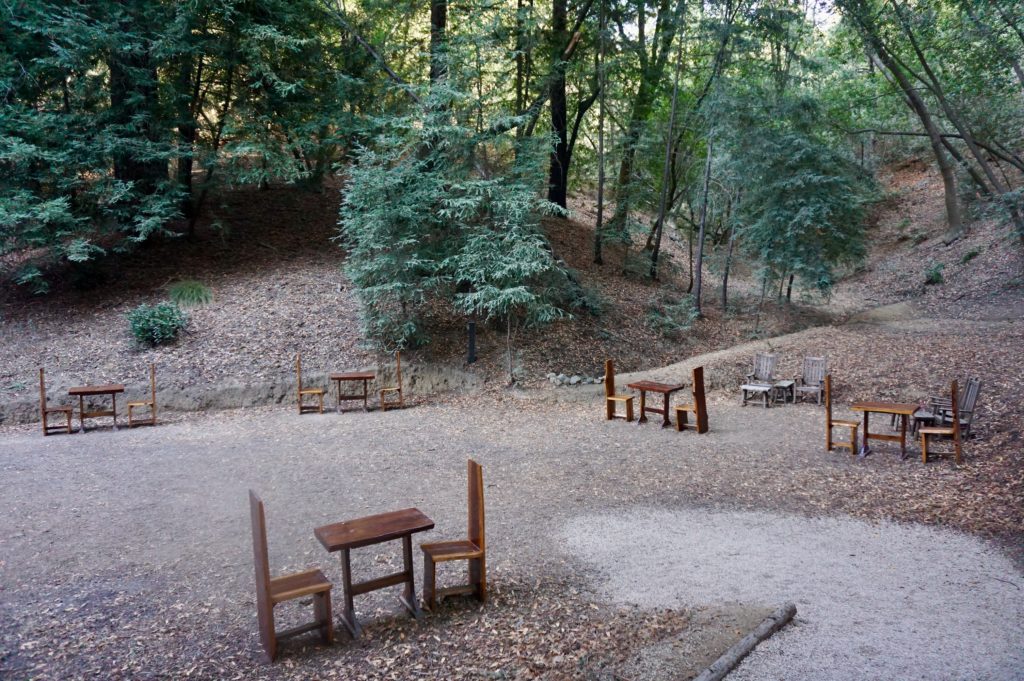 The second room service lunch I ordered was a hikers lunch smoked chicken wrap, tri tip sandwich, as well as the edamame hummus. Note I had to order evening before check-out to take with us on the road.
Smoked chicken wrap tastes as you would expect, but the tri tip sandwich was delicious and recommended. Edamame Hummus used crushed edamame and had an interesting taste with horseradish. The hikers lunch included bottled water and paper bags containing nuts. Sandwiches can be eaten by hand, but I wish I had knives and forks for the fruit and the dip.