HYATT CARMEL HIGHLANDS OVERLOOKING BIG SUR COAST & HIGHLANDS INN HYATT RESIDENCE CLUB SUPPER & BREAKFAST
When I stayed at Hyatt Highlands, I used the hotel's main dining, California Market at Pacific's Edge , for dinner on the day I checked in and twice for breakfast, for a total of three times.
I made a reservation for dinner during check-in, but the sunset time seemed to be crowded. I managed to get a table prepared after some discussion and negotiation. For breakfast, I decided to make an early reservation for a table with a good view.
Unfortunately, I couldn't see the sunset while having dinner because it was cloudy. The sunshine was dazzling a few hours before check-in, but the changing weather is typical of the season and locations near the sea.
Looking at the hotel's website, it looks like the restaurant is a fusion restaurant that combines a casual bistro along side fine dining.
Raw oysters were available, so I ordered them as an appetizer. For my main, I ordered cioppino in the hope that the seafood would be delicious. Warm bread is served while you wait.
The raw oysters were smaller than I expected. It was a little off from typical oyster season from September to December, but I was still a little disappointed. J doesn't like raw oysters, so I enjoyed it all by myself.
Next, Cioppino – a slightly punchy soup for crustaceans and white fish. It was not as good as I have had in San Francisco, but I was happy to be able to have it for the first time in a while.
Even at breakfast the next day, it was still cloudy outside. The restaurant was relatively empty compared to the dinner the day before, so I asked him to be seated at a table by a window.
Breakfast is only ordered from a la carte, not buffet. With the benefits of Hyatt Globalists, one adult will receive a free drink and one food item, and up to two adults and two children will be provided free of charge. There are also Bloody Mary and Mimosa, but alcohol purchases are charged.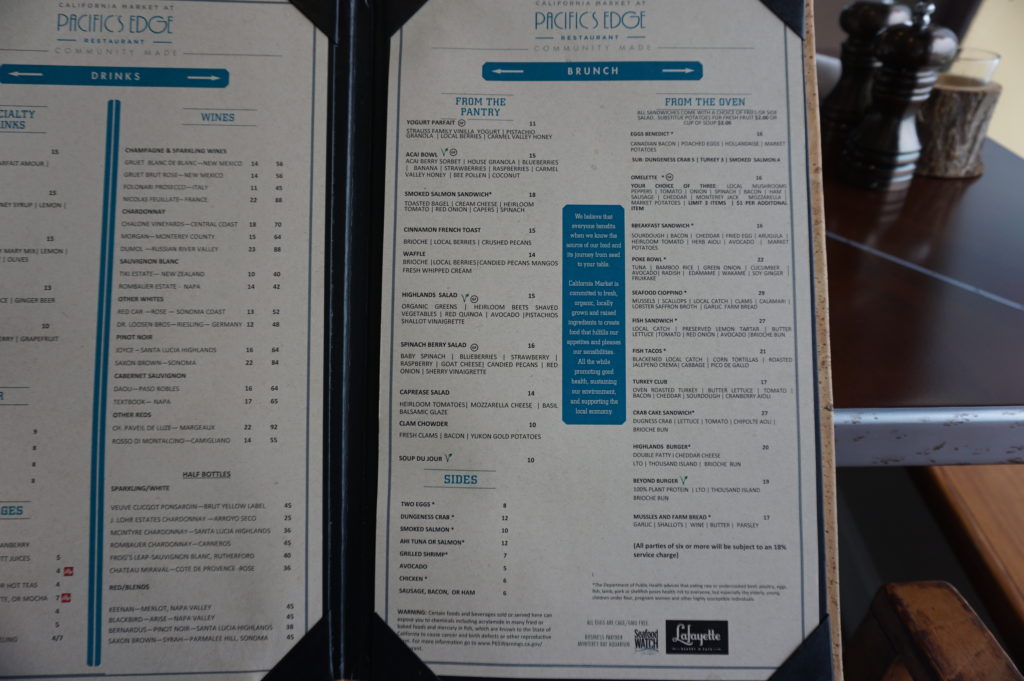 The breakfast on the first day was Eggs Benedict. Now that I think about it, I should have changed to Dungeness Crab instead of Canadian Bacon. .. ..
I had fish tacos for breakfast on the second day. There was a happening that the roasted jalapeno attached was unexpectedly spicy and it gave me the hiccups. It was that spicy. However, you can't miss ordering seafood at this restaurant.
It seems that customers other hotel guests also use the restaurant at dinner, so it is better to make a reservation in advance. Also, not all tables have a view of the sea, so I think it's wise to request a window seat.